COVID-19 (Novel Coronavirus)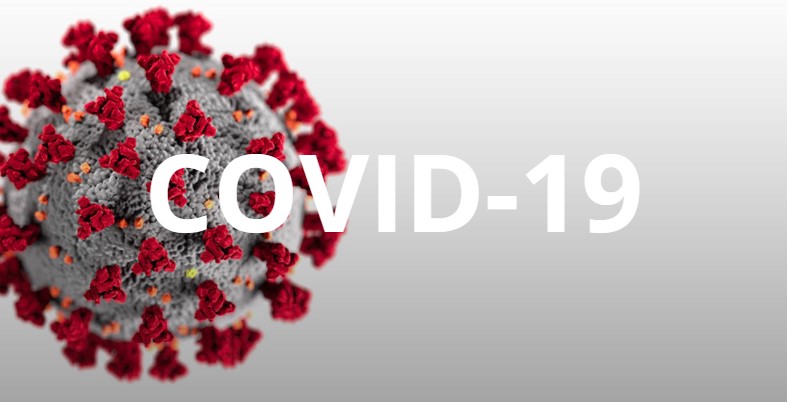 Quick Links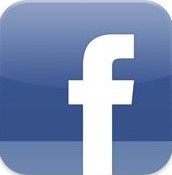 Follow us on Facebook for daily updates
_______________________________________________________________________________________________________________________________
SAFE TRAVELS HAWAII
The list of approved Trusted Testing Partners is available at HawaiiCovid19.com. Trusted Testing Partners with an "+" notation must use the Standard State of Hawaii TTP Results Form.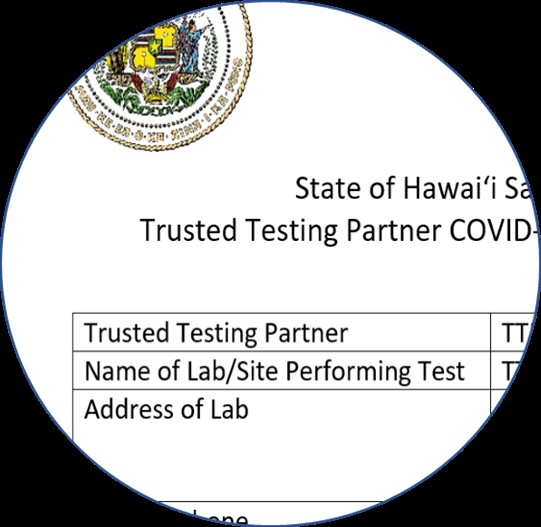 Proof of the COVID-19 vaccination is currently not a recognized exemption to the Hawaii travel quarantine. The state continues to evaluate the latest science and will inform travelers of any new exemptions as those decisions are made.
Read the FAQs here.
Email: [email protected]
Call Center: 1-800-GO-HAWAII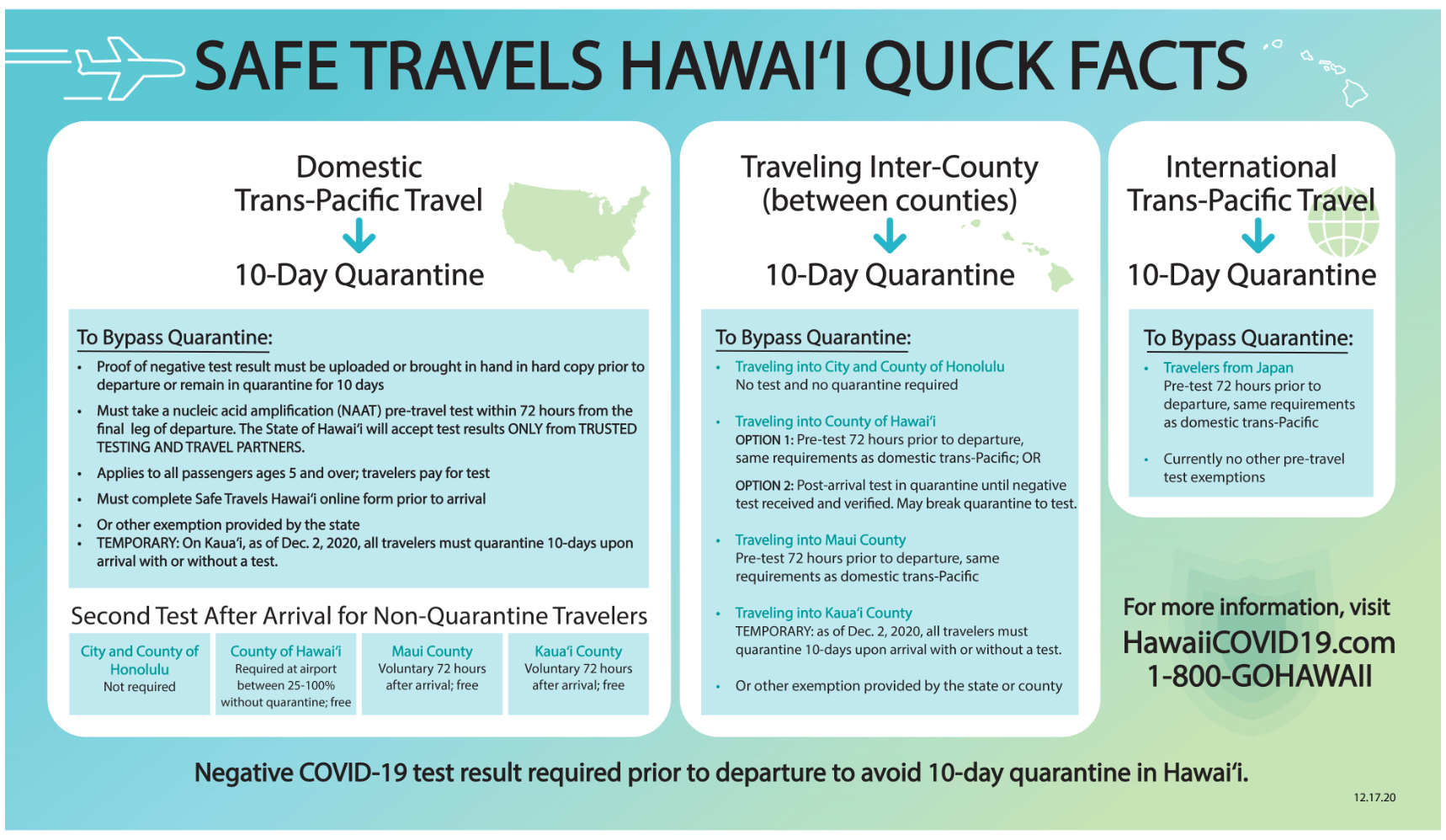 _______________________________________________________________________________________________________________________________
State Announces Four Trusted Testing Partners in Korea
Travelers may bypass the State of Hawaii's mandatory 10-day quarantine if they take a COVID-19 test from a trusted testing partner in Korea. The test must be taken no earlier than 72 hours prior to departure and the test result must be negative. The four trusted testing partners in Korea are:
_______________________________________________________________________________________________________________________________
U.S. Executive Order on Promoting COVID-19 Safety in Travel
On January 21, United States President Joseph Biden signed an Executive Order which requires mask-wearing in or on airports, commercial aircraft, trains, public maritime vessels including ferries, intercity bus services, and other forms of public transportation. In addition, Section 5 states that travelers seeking to enter the United States shall be required to produce proof of a recent negative COVID-19 test prior to entry; and required to comply with other applicable CDC guidelines concerning international travel, including recommended periods of self-quarantine or self-isolation after entry into the United States. Read more.
_______________________________________________________________________________________________________________________________
CDC Expands Negative COVID-19 Test Requirement to All Air Passengers Entering the United States
Before departure to the United States, a required test, combined with the CDC recommendations to get tested again 3-5 days after arrival and stay home for 7 days post-travel, will help slow the spread of COVID-19 within U.S. communities from travel-related infections. Pre-departure testing with results known and acted upon before travel begins will help identify infected travelers before they board airplanes.

Air passengers are required to get a viral test (a test for current infection) within the 3 days before their flight to the U.S. departs, and provide written documentation of their laboratory test result (paper or electronic copy) to the airline or provide documentation of having recovered from COVID-19. Airlines must confirm the negative test result for all passengers or documentation of recovery before they board. If a passenger does not provide documentation of a negative test or recovery, or chooses not to take a test, the airline must deny boarding to the passenger. Read the news release.
*Despite the new test requirement by the CDC, international travelers to Hawaii must still have a negative test result from a State of Hawaii Trusted Testing and Travel Partner (before departure to Hawaii) in order to avoid the 10-day traveler quarantine. Those who have a test result from a non-State of Hawaii Trusted Testing and Travel Partner may meet the federal requirements to board the plane bound for the U.S., but will be required to quarantine upon arrival in Hawaii.
_______________________________________________________________________________________________________________________________
AlohaSafe Alert App
The Hawaii Department of Health (DOH), in partnership with aio Digital and the Hawaii Executive Collaborative (HEC), has launched AlohaSafe Alert, the free State of Hawaii officially approved exposure notification app to help mitigate the spread of COVID-19.
***As of January 19, all passengers arriving to Maui County must upload the AlohaSafe app or other Google-Apple exposure notification (GAEN) system to their mobile phones. Failure to do so will result in a mandatory 10-day quarantine.
Some key features of the app include:
Participants may opt in/out at any time.
The app allows smartphones to interact and exchange anonymous codes that are frequently changed, but it does not keep track of any geo-location or GPS data.
Only DOH authorities will have access to data, and all data will be kept anonymous.
Should you test positive for COVID-19, your identity is kept private from anyone who receives an alert, and their identities are kept private from you.
AlohaSafe Alert is interoperable with other similar official notification apps in other states and those apps can also be used by visitors to Hawaii.
To download the free app, go to the Google Play or Apple App Store on your phone. For more information visit www.alohasafealert.org.
_______________________________________________________________________________________________________________________________
"Resort Bubble" Option on Kauai
All transpacific travelers arriving on Kauai are subject to the state's 10-day mandatory self-quarantine regardless of testing. However, there is a pre- and post-travel testing program for visitors who stay in "resort bubble" hotels. It allows travelers who participate in the program to enjoy the resort amenities for the first three days of their vacation until they are eligible to take their post-travel test. Once the post-travel test shows they are COVID-free, they will be released from quarantine and can leave the "resort bubble."
To qualify, travelers must:
Take a pre-travel test within 72 hours before traveling to Kauai and receive a negative test result.
Stay at an approved Enhanced Movement Quarantine "resort bubble" property.
Take a post-travel test more than 72 hours after arriving on Kauai and receive a negative result.
The current "resort bubble" hotels on Kauai are:
For more information read Emergency Rule 24 and Kauai County travel information.

_______________________________________________________________________________________________________________________________
Pre-travel COVID-19 Negative Test Result Must Be in Hand
PRIOR TO

Departure for Hawaii

All individuals, both residents and visitors, arriving from out-of-state to Hawaii are subject to a mandatory 10-day self-quarantine.

However, the state's Pre-Travel Testing Program allows individuals to proceed without having to self-quarantine. This does not include out-of-state travel to Kauai at this time. The program requires passengers five and older to take a Nucleic Acid Amplification Test (NAAT) from a Clinical Laboratory Improvement Amendments (CLIA) certified laboratory within 72 hours from the final leg of departure and produce a negative result. Only test results from trusted testing partners approved by the Hawaii Department of Health are being accepted. A trained professional must observe all tests. Registration instructions and costs can be found at the partners' websites.

Travelers wishing to bypass the 10-day mandatory quarantine must have their negative COVID-19 test results - from a trusted testing partner - prior to departure for the State of Hawaii.

Travelers heading to Hawaii must upload their negative test result to the Safe Travels system prior to departure or, as an alternative to uploading, bring a hard copy of their negative test result with them when boarding their flight. The State of Hawaii highly recommends that all transpacific travelers departing for Hawaii carry a hard copy of their negative test result as a backup.

IMPORTANT: Test results will not be accepted once a traveler arrives in Hawaii. Travelers who do not have a negative test result prior to departing for Hawaii must self-quarantine for 10 days, without exception. Post-arrival testing and results will also not be accepted once a traveler has arrived in Hawaii.

This applies to domestic transpacific flights and flights from international locations in which pre-travel testing programs are in place. It does not apply to inter-county travelers. Read the press release.

In addition to the pre-travel test, a county may require travelers five and older to obtain a subsequent test after arrival. This post-arrival test will be administered by the county. Be sure to check with the individual county websites for the latest information.

For more information visit Traveling To Hawaii.

_______________________________________________________________________________________________________________________________
Wearing a Face Covering is the Law in Hawaii
Wearing a face covering, or mask, is the law in Hawaii. All persons in the state shall wear a face covering over their nose and mouth when in public. The requirements of this statewide mask mandate are set forth by the emergency proclamation, which will be enforced in each county. All persons shall comply with applicable safety, hygiene and physical distancing guidance from the Centers for Disease Control and Prevention (CDC) as well as with state, county, industry and regulatory practices for safety, hygiene and physical distancing, including standards and requirements adopted and issued by Hawaii Department of Health (DOH).
An owner or operator of any business or operation shall refuse admission or service to any individual who fails to wear a face covering, unless an exception applies under this section. Businesses or operations may adopt stricter protocols or requirements related to face coverings and face shields. Businesses or operations not enforcing this rule may be subject to enforcement, including fines and mandatory closure.
For more information on county rules, read the latest guidelines (City and County of Honolulu, Maui County, Kauai County, Hawaii County).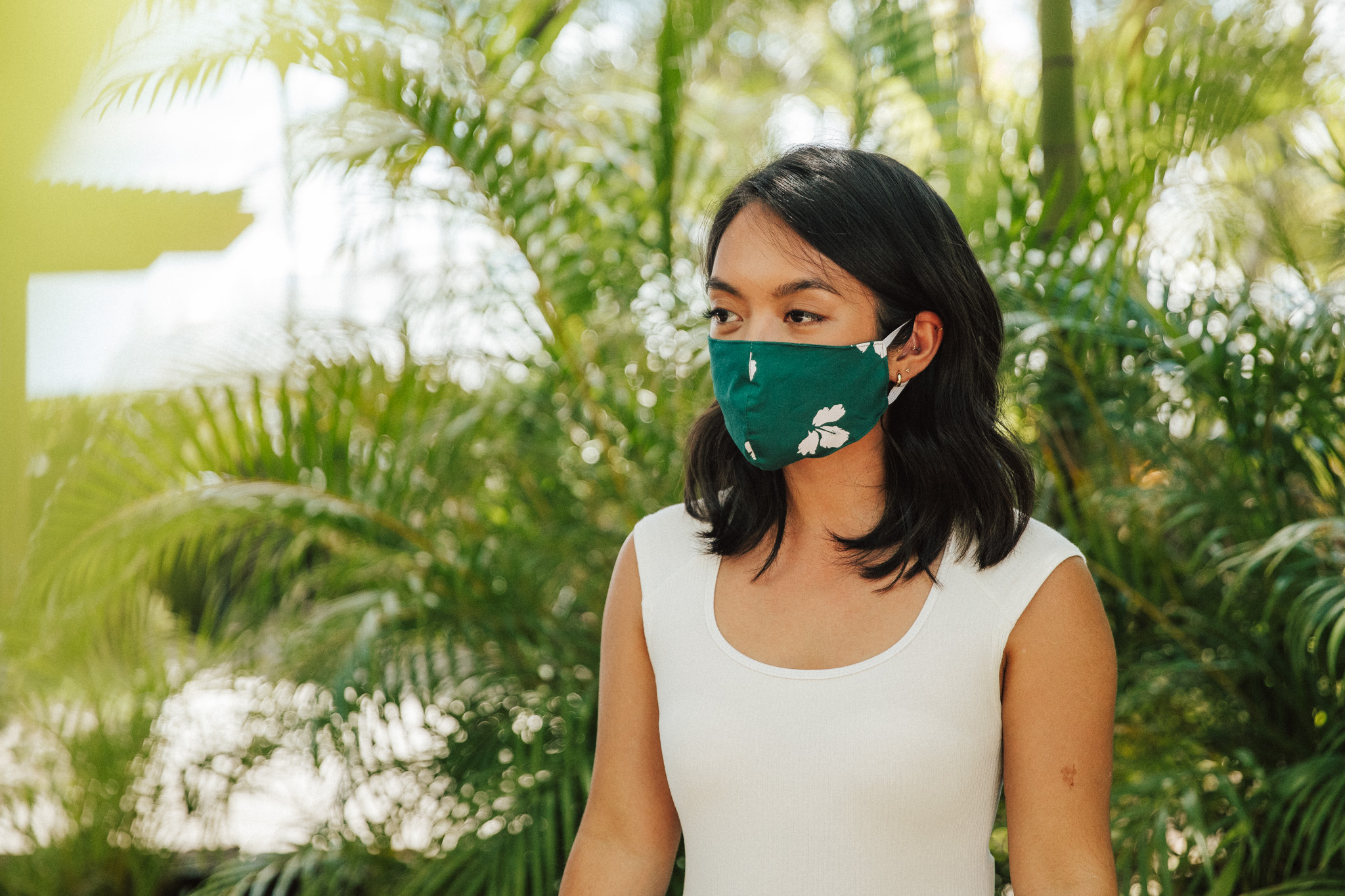 _______________________________________________________________________________________________________________________________