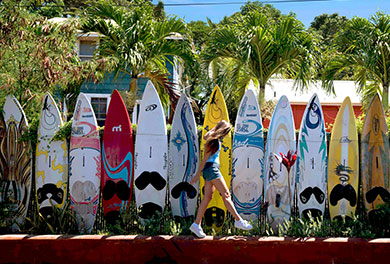 Tools & Resources
HTA supports the growth and success of Hawaiʻi's businesses and community organizations in tourism. HTA provides tools and resources to assist in your destination brand marketing and product development efforts.
Marketing & Promotion Resources
For businesses wanting to participate in our world-wide tourism marketing opportunities, digital images to market the destination, and resources to authentically promote Hawaiʻi.

Festivals & Event Resources
For festival/event organizers to develop and enhance their festival or event.
Sponsored Programs/Event Resources
For programs and events that receive HTA funding. Here you will find report templates, sample documents and other resources.
Maʻemaʻe Toolkit - Hawaiʻi Style & Resource toolkit
For those seeking essential information needed to authentically promote Hawaiʻi. The Maʻemaʻe Toolkit includes Hawaiian language tools, a Style and Resources Guide, a list of cultural activities and festivals and other pertinent information about our destination.
Mālama Kuʻu Home: An Update from the Hawaiʻi Tourism Authority
The "Mālama Kuʻu Home: An Update from the Hawaiʻi Tourism Authority" took place on October 1, 2021 and provided information on HTA's vision, 2020-2025 Strategic Plan and four interacting pillars, organizational changes, implementation of the Destination Management Action Plans, brand management efforts and market insights.

2022 Winter Tourism Update
The 2022 Winter Tourism Update took place on February 9, 2022 and provided updates on fulfilling HTA's Strategic Plan, with a focus on our brand marketing pillar which is aimed at protecting and enhancing Hawaiʻi's globally competitive brand in a way that is coordinated, authentic, and market-appropriate.
2022 Hawaiʻi Tourism Conference Presented by Hawaiian Airlines
The Hawaiʻi Tourism Conference took place on December 8 and 9, 2022 as a two-day in-person event that offered travel and tourism insights from worldwide industry leaders on topics and issues that help shape our destination. Some of these topics include important conversations around destination management and the progress made through our Destination Management Action Plans (DMAPs), cultural tourism, travel sector updates, regenerative tourism and research trends.

2023 Spring Tourism Update
The Spring Tourism Update took place at the Hawaiʻi Convention Center on April 12, 2023 where industry partners and community members joined us to listen to valuable insights from HTA's Global Marketing Team, updates on implementation of the Destination Management Action Plans, and panel sessions with key leaders on important topics for Hawaiʻi and our visitor industry.