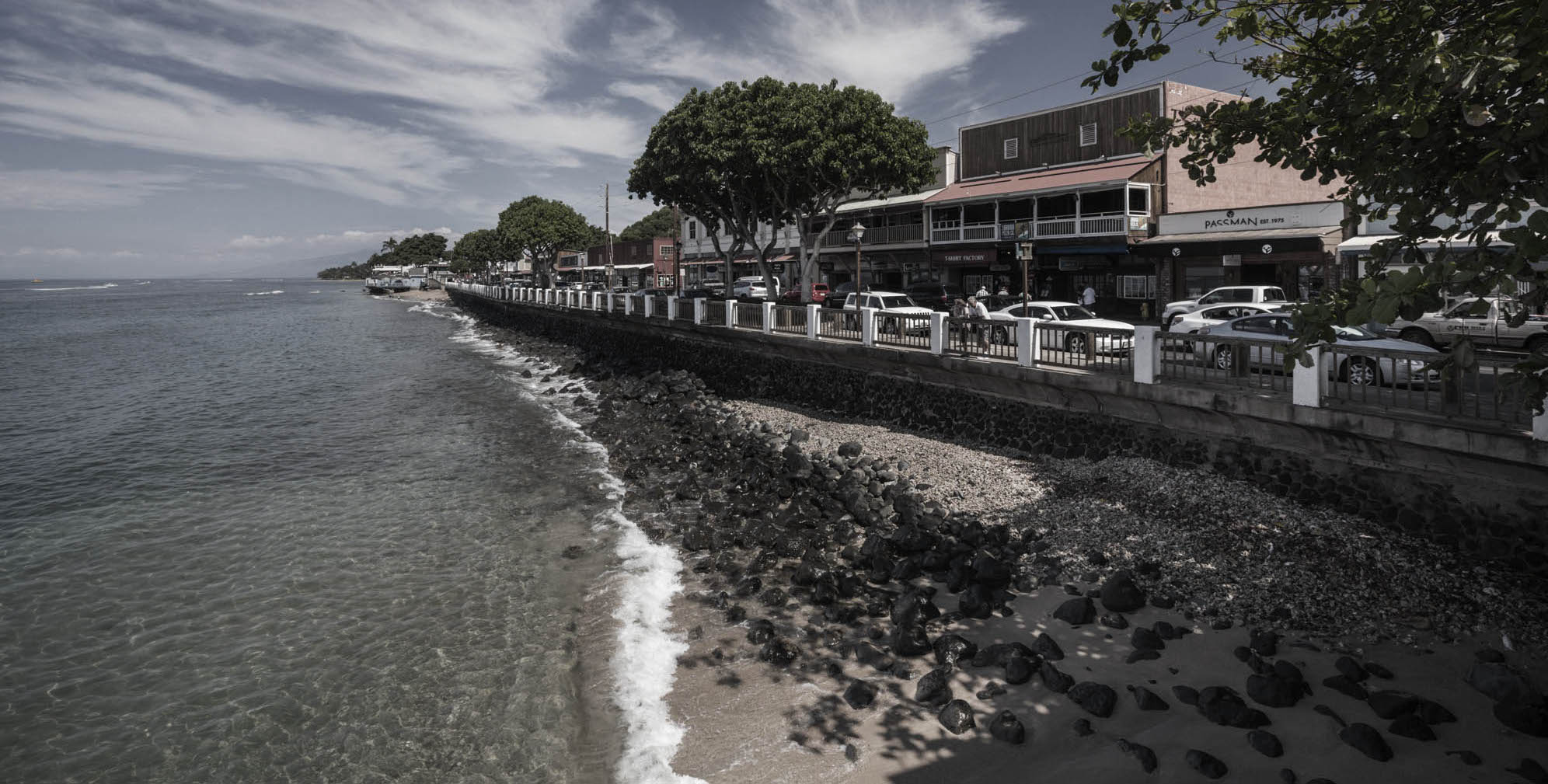 Maui Recovery
On August 8, 2023, wildfires resulted in the devastating loss of loved ones, homes, cultural and historical sites, and businesses in Lahaina, located in West Maui. We extend our deepest condolences and heartfelt aloha to all those who have been affected by this tragedy. We also urge visitors throughout Hawai'i to be especially mindful and respectful in our island home as our community continues through this extremely difficult time.
 
The Hawaiʻi Tourism Authority is continuously coordinating efforts with federal, state and county emergency management officials, as well as our community partners, visitor industry and Global Marketing Team. We are also providing updates to our travel partners — airlines, accommodations, ground transportation companies, activity providers, travel agents, and wholesalers, as well as to local, national and international media — to ensure the public is kept informed.
While Lahaina itself will remain fully closed to the public until further notice out of respect to the town's residents, the West Maui communities of Kā'anapali, Nāpili, Honokōwai, and Kapalua will fully reopen on Sunday, October 8. Read more below.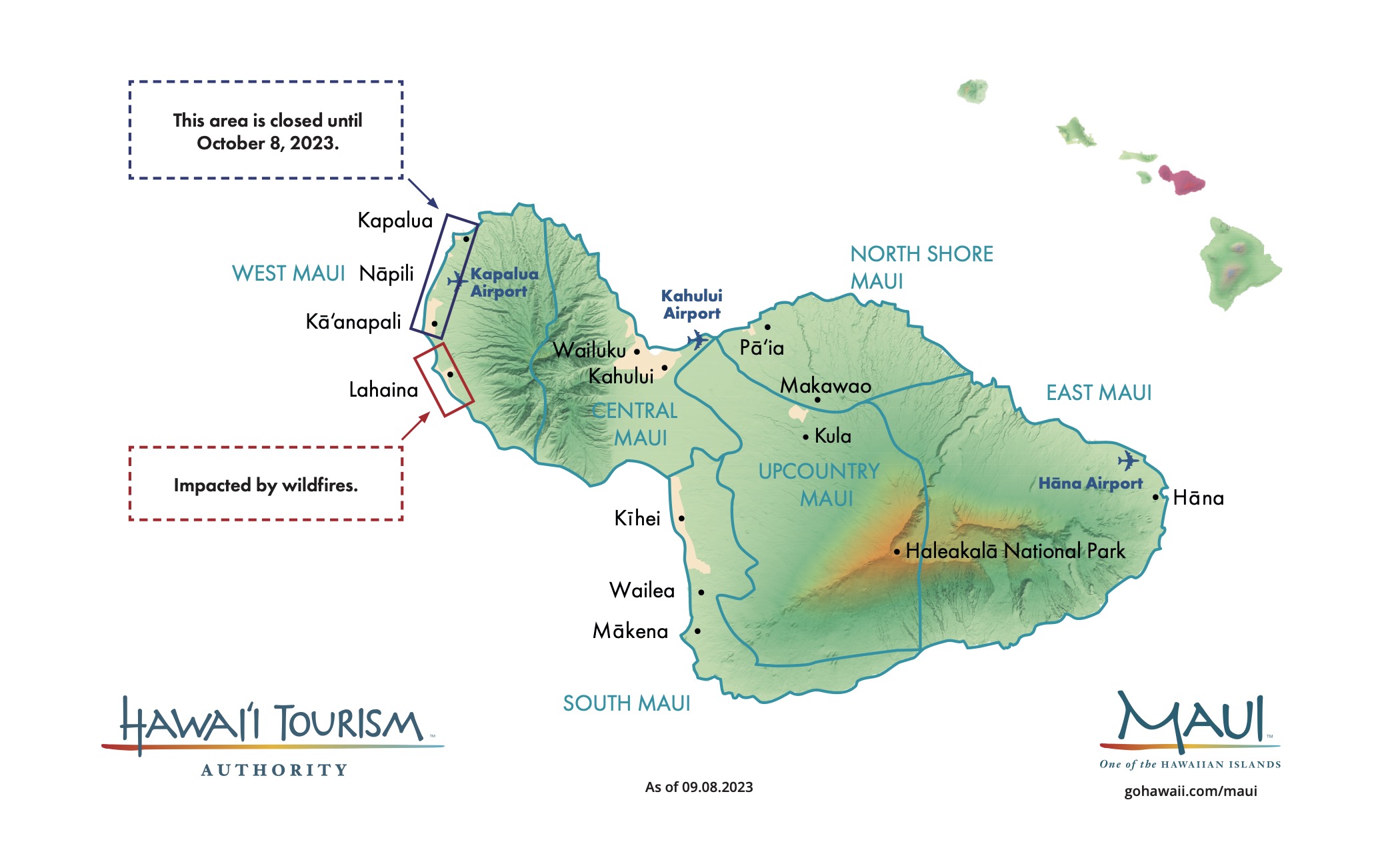 Latest News
September 8, 2023

Governor Josh Green, M.D. Declares West Maui Communities to Reopen on October 8, Urges Visitors to Support Local Businesses and Workers
On September 8, Governor Josh Green, M.D., declared in a statewide address that the West Maui communities of Kā'anapali, Nāpili, Honokōwai, and Kapalua will fully reopen on Sunday, October 8, two months after the August 8 wildfires that destroyed Lahaina.
 
Hawai'i residents and visitors are encouraged to make travel plans to Maui and support the island's businesses, restaurants, retail outlets, attractions, and accommodations. All previous restrictions for travel to West Maui communities north of Lahaina will be lifted October 8 and no one should be discouraged or reluctant to go and support the businesses and workers that rely on tourism in West Maui for their families' livelihood.
Governor Green stated, "Beginning October 8, all travel restrictions will end and West Maui will be open to visitors again, so people from Hawaiʻi and around the world can resume travel to this special place and help it begin to recover economically. This difficult decision is meant to bring hope for recovery to the families and businesses on Maui that have been so deeply affected in every way by the disaster."
 
Lahaina itself will remain fully closed to the public until further notice out of respect to the town's residents. County, state, and federal emergency responders continue with efforts to identify victims and the missing, and conduct clean-up efforts of debris and hazardous materials resulting from the wildfires.
"No one in Hawai'i will ever forget the tragedy that our friends, families, loved ones, and colleagues in Lahaina are enduring," said Daniel Nāho'opi'i, Chief Administrative Officer of the Hawai'i Tourism Authority. "The response from residents statewide and by people around the world to support Maui's recovery has been incredible and inspiring. Now is the time for people everywhere to show their support for Maui by booking trips, making restaurant reservations, and frequenting Maui's retail stores and attractions that support workers and their families."
 
For the latest information on travel to the Hawaiian Islands, visit our official travel site, gohawaii.com.


Hawai'i Tourism Authority Board Of Directors Approves $2.6 Million In Funding For Maui Marketing Recovery Plan
HTA's Board of Directors took decisive action at its monthly board meeting on August 31 to approve $2.6 million in funding to launch the Maui Marketing Recovery Plan, which is centered around a new Mālama Maui campaign with heartfelt messages shared by kama'āina of Maui. The plan's focus is to rebuild responsible travel demand from the United States market to Maui in the wake of the devastating Lahaina wildfires. Watch the board meeting.

HTA staff and board members were on Maui over the past weeks to meet with residents and business owners and listen to them about the challenges they now face with visitor arrivals decreasing significantly since August 8. Visitors help to support the economy, supporting local shops, local restaurants, and local activities which ultimately aids in the island's overall recovery efforts.
Travel Trade
Information and resources for travel advisors is available on our GoHawaii website.

NOTE: While multiple dictionary sources propose "Lāhainā" as the old pronunciation for the region, living kūpuna, mānaleo and recordings of mānaleo serve to demonstrate that the contemporary pronunciation is Lahaina. Heeding the call from the Lahaina community, HTA uses the spelling Lahaina across all platforms.