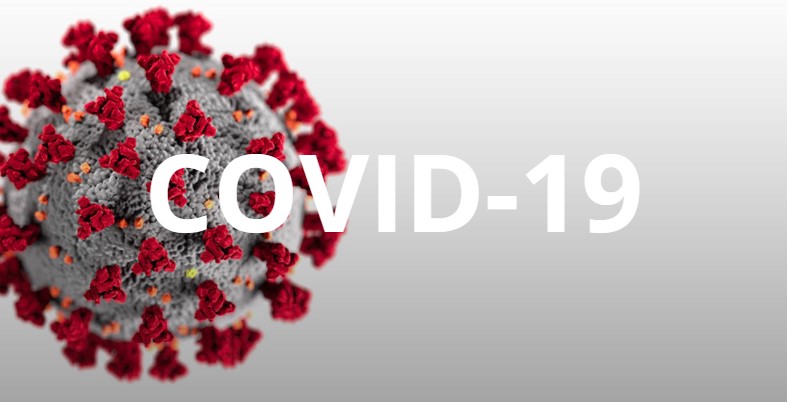 Quick Links
NEW SAFE TRAVELS PROGRAM
The State of Hawaii's new online Safe Travels program is mandatory for all travelers. This program, which collects the required health and travel information, is critical to protecting the health of residents and visitors alike. Click here for FAQs and instructions.
Travelers are encouraged to enter their information and trip details well in advance of their flight. Once their health information is entered 24 hours before departure, travelers receive a QR code via email. The QR code on their mobile device or printed on paper gets scanned by the airport screener upon arrival.
New features and data elements will be added in future phases, as the Safe Travels process and State travel requirements evolve. Travelers without smart phones or computers can ask a friend or relative for assistance or receive assistance at the arrival airport. Travelers without email addresses will need to create one on an email service to comply with the conditions of quarantine.
Click here for the press release.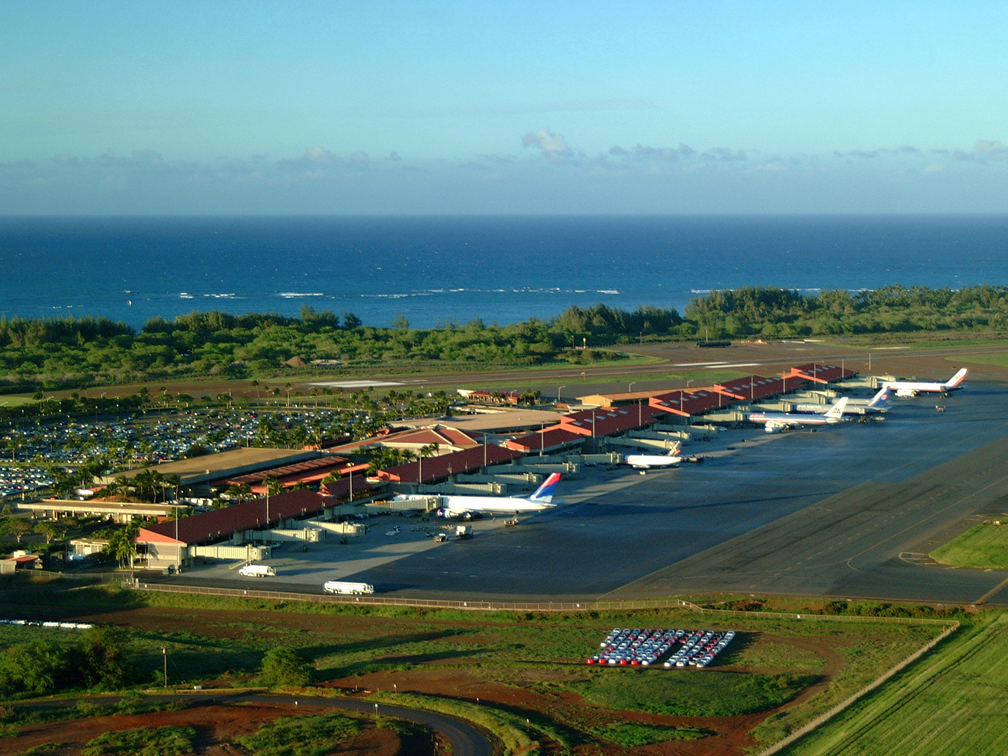 INTERISLAND TRAVEL
The mandatory 14-day interisland self-quarantine applies to any person arriving to Kauai, Hawaii Island or Maui County (Maui, Molokai, Lanai), and traveling between these islands. It does not include interisland travelers arriving on Oahu. The period of self-quarantine will begin immediately upon arrival, and last 14 days or the duration of the person's stay on the island, whichever is shorter. The interisland quarantine continues through October 31 unless it is terminated or extended by a separate proclamation.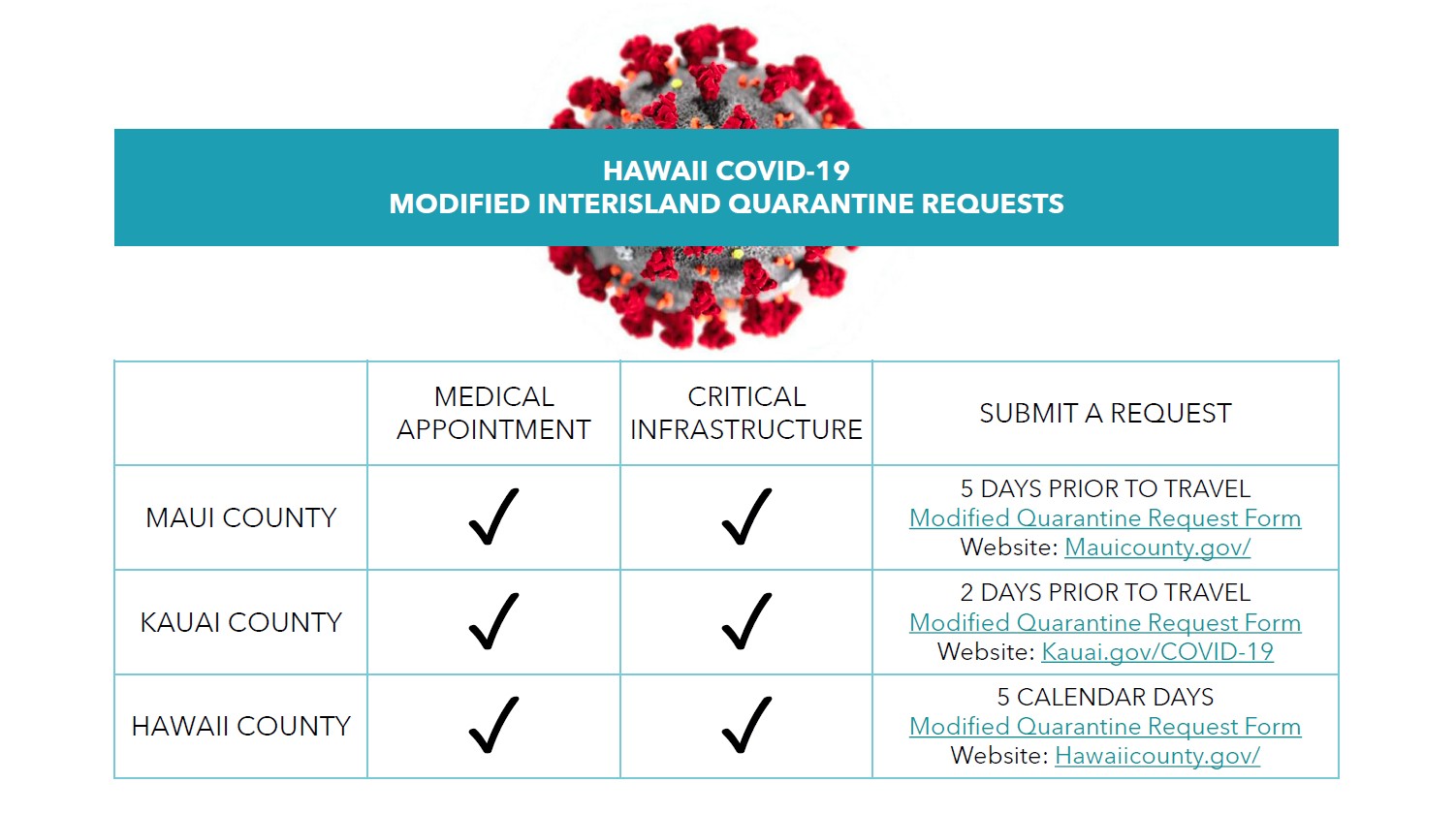 TRANSPACIFIC TRAVEL
The Pre-Travel Testing Program is scheduled to begin on October 15.
Travelers who, upon entry into the state, provide written confirmation from a state approved COVID-19 testing facility of a negative test result from a test administered to the traveler within 72 hours from the final leg of departure, will be exempt from the 14-day mandatory quarantine.

As set forth in Exhibit B, a "state approved COVID-19 test" means a test to determine the presence of active COVID-19 infection that has been approved for use under these rules by the Hawaii Department of Health (DOH). Currently approved is the processing by laboratories that are licensed or certified by Clinical Laboratories Improvement Amendments (CLIA) of specimens for nucleic acid amplification testing approved or authorized by the United States Food and Drug Administration, pursuant to an Emergency Use Authorization or other authorization for COVID-19 testing.
Travelers also will have their temperatures checked upon arrival and must fill out a travel and health form. Upon arrival in Hawaii, passengers unable to provide proof of an authorized negative test will be required to go into quarantine for 14 days or until they can provide proof of negative test results. Read the FAQs.
The 14-day mandatory self-quarantine applies to all arrivals at state airports, including private and commercial aircrafts. All arriving passengers are required to initial and sign this order confirming they are aware of the 14-day quarantine and acknowledging they understand violating the order is a criminal offense, and subject to up to a $5,000 fine and/or a year imprisonment. The period of self-quarantine begins from the time of entry into the State and lasts 14 days or the duration of the person's time in Hawaii, whichever is shorter. Click here for the thirteenth supplementary proclamation.
Pre-travel Checklist - 24 Hours Before Flight
Check in with your airline
Fill out the

Safe Travels

program information
Once travelers get to a Hawaii airport, they will have to show proof they completed their form and provide identification. After that, they will be expected to check-in daily during their mandatory 14-day quarantine. Visitors will be required to self-quarantine in their accommodations, and residents in their homes, but they may leave for medical emergencies.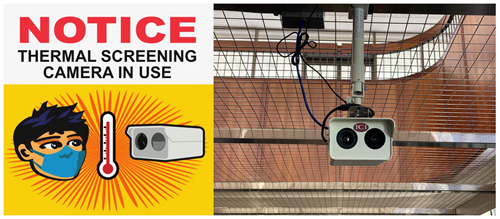 After landing they will have their temperature taken through thermal temperature screening equipment at the gate. Facial imaging equipment will be installed by December 31. Read more here.
Anyone with a temperature above 100.4 degrees will receive a medical assessment by paramedics stationed at the airport. Passengers who do not have a fever will then go through a checkpoint and present the completed form with a valid identification. Checkpoint staff will validate the form and issue documentation that certifies they cleared the checkpoint.

The passenger will move to the self-quarantine station, initial and sign the order confirming they are aware of 14-day quarantine and acknowledging they understand violating the order is a criminal offense and they are subject to up to a $5,000 fine and/or a year imprisonment.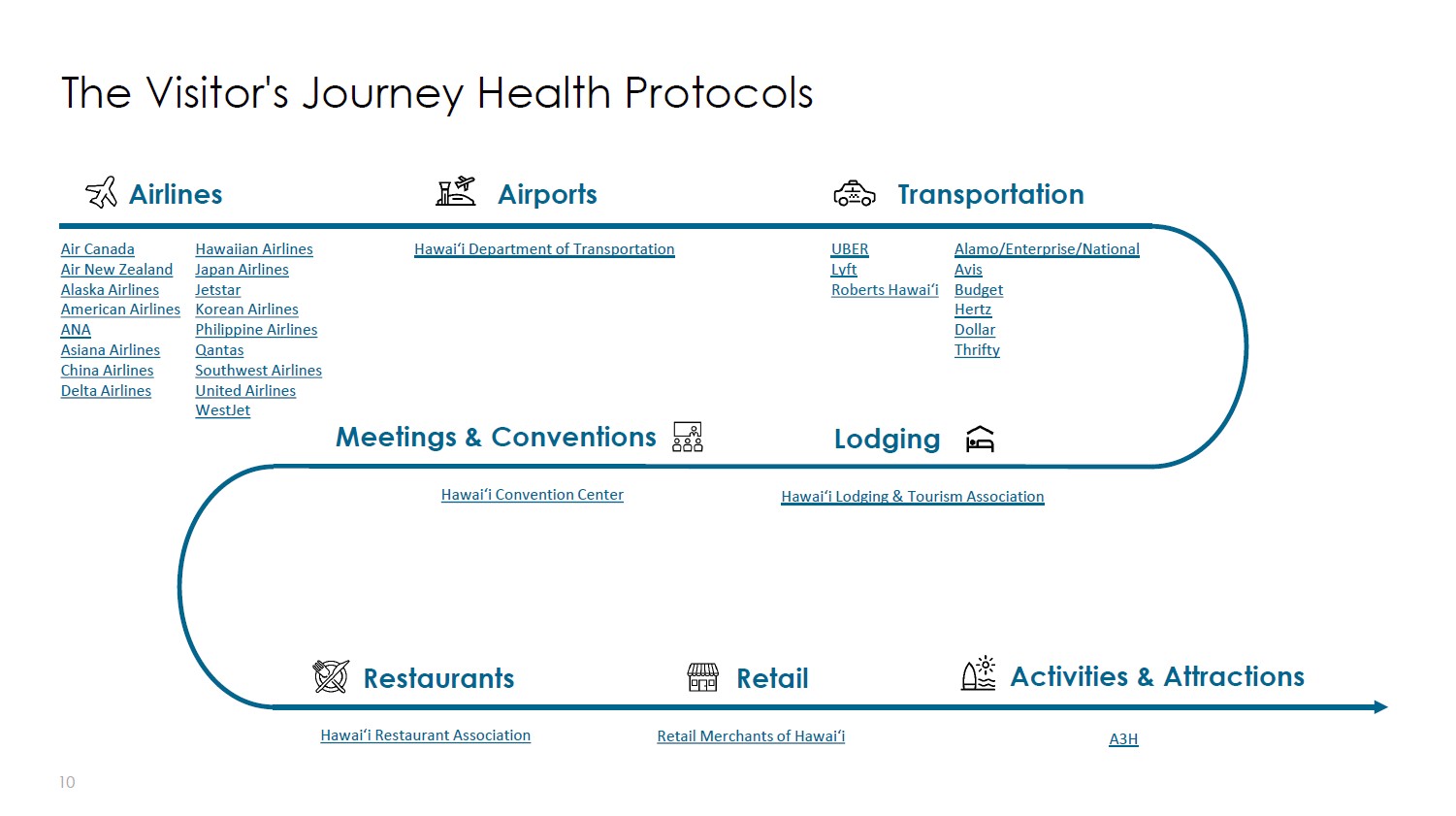 Click here to view the visitor's journey and health protocols being implemented, including the airlines, airports, transportation, lodging, meetings and conventions, restaurants, retail, and activities and attractions.
TRANSPACIFIC SELF-QUARANTINE EXEMPTIONS
There are exceptions to the general rule that all travelers must self-quarantine:
Individuals arriving in the State on recreational boats into the State's small boat (non-commercial) harbors which have been at sea for at least 14 days do not have to self-quarantine if no one on the boat is ill or experiencing COVID-19 symptoms; and
Individuals traveling to the State to perform critical infrastructure functions as described in the proclamation will be subject to self-quarantine but may break quarantine to perform their critical functions.
Exemption seekers can submit their requests online as well as review a list of frequently asked questions (FAQs) at travelexemption.hawaii.gov.
HOST RULES
All hosts of any guest(s) subject to the mandatory 14-day self-quarantine are responsible for ensuring that their guest(s) abides by the self-quarantine rules. Any host violates this rule if the host intentionally, knowingly, or recklessly fails to notify law enforcement immediately when a guest or guests subject to the self-quarantine fails to enter or remain within the confines of their designated quarantine location.
Please be sure to check the latest guidelines for short term rentals, transient vacation rentals and homestay operations in place, by county (City and County of Honolulu, Maui County, Kauai County, Hawaii County).
VEHICLE RENTALS AND CAR SHARING
Operations that provide vehicles may not rent or provide car sharing services to any person who is subject to a 14-day self-quarantine order unless an exemption is granted.